The principle behind Wage Portage for contractors:
Professional independence is an important aspect for consultants anywhere in the world.  Would you like to carry out freelance missions, bill your customers, preserve your social security and secure your income? SPTS Wage Portage Service allows you to combine all these advantages and suggest wage portage as a secure solution which is perfectly adapted to your needs.
The SPTS wage portage is the status that will allow you to work differently and independently. 
Wage Portage is a form of working relationship that emerged in 1985 in Europe and more recently in Switzerland. It facilitates interaction between executives/contractors seeking employment, and companies looking for expertise, audit, advice or training. The status of independent contractor is complex and does not offer any guaranteed income. Opting to use a wage portage structure can help address these gaps.
During his/her mission/contract period, the consultant becomes an "employee" of SPTS, which in turn manages all social security contributions, taxes and administrative procedures on his/her behalf.
SPTS's mission is to:
SPTS's Contractors Wage Portage aims to:
Enable any freelancer, consultant and contractor to exercise and develop an independent, professional activity, with a protected status as an employee
Allow companies to gain access to experienced professionals with simple, compliant, and competitive wage management services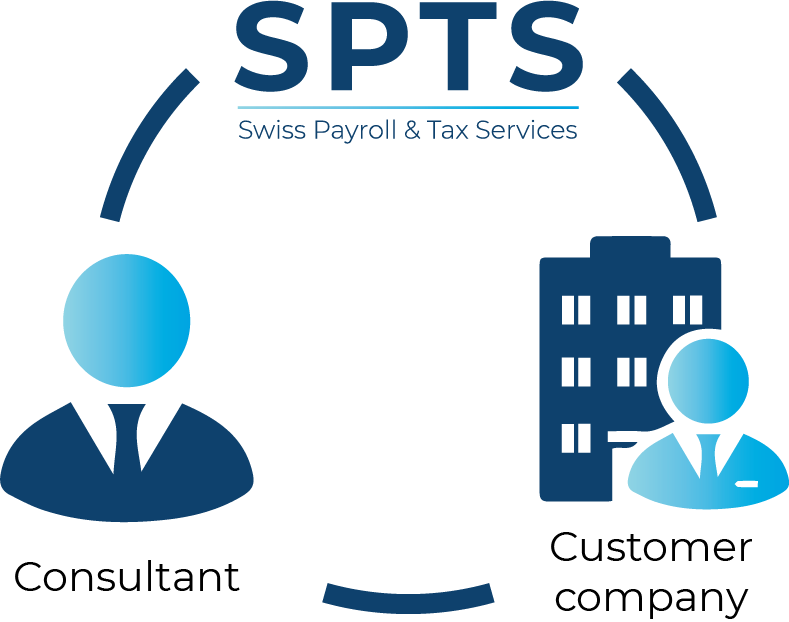 Our wage portage services :
Choosing to work with SPTS for wage portage is choosing to:
Work with a high quality and cost-efficient services
SPTS services are carried out with the utmost discretion and in a time efficient manner by highly skilled and experienced specialists. We offer consultancy which is individually tailored to meet your needs in various fields. Our experts are always up-to-date with current global trends and ensure to provide the most competent advice and general developments from around the world. Our experts speak a range of languages including French and English.
The "ALL-IN-ONE Package" of SPTS Services
Application for a residence permit.

Declaration of contributions to social insurance.

Tax at source deduction.

Provide all administrative and contractual documents (employment contracts, mission orders, pay slips, detailed monthly accounts, salary certificates, work certificates, etc.)

Application for family allowances

Application for benefits in case of accident or illness

Management of expense reports