As a UN consultant, do you know?
All persons domiciled or engaged in paid employment in Switzerland are subject to compulsory insurance. Swiss nationals working abroad for the federal government, for international organisations with whom the Federal Council has concluded a headquarter agreement, or for private volunteer organisations that receive substantial support from the government are also subject to compulsory insurance. Insured persons are required to pay contributions as long as they are engaged in paid employment, according to Article 112 of the Federal Constitution. This is why SPTS provides wage portage for UN Consultants.
See the Video/Swiss TV : 
SPTS's mission:
"Wage Portage for UN Consultants" aims to:
Enable any freelancer, consultant and contractors to exercise and develop an independently professional activity, with a protected status of an employee
Allow companies to gain access to experienced professionals with simple, compliant, and competitive service.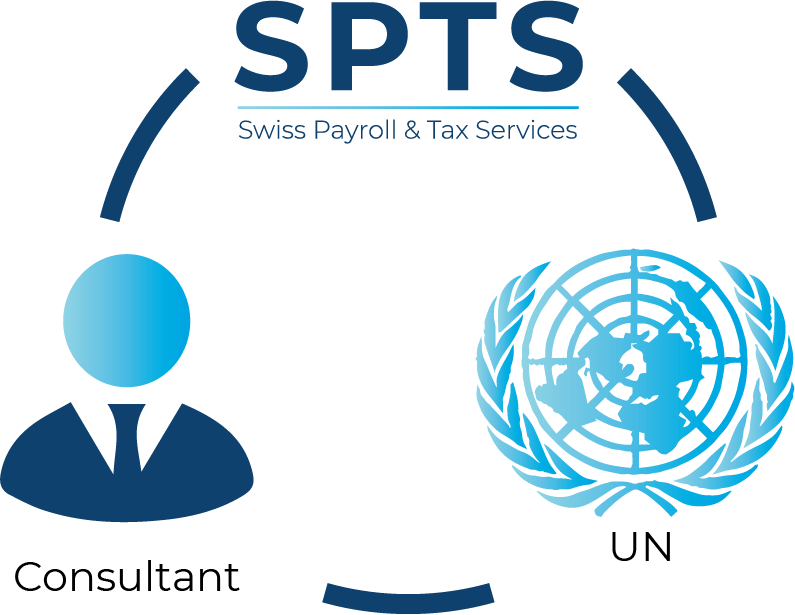 Wage Portage for UN Consultants
Your advantage by declaring as Swiss salaried :
The first pillar: The Swiss pension system
The first pillar is the state pension. Known as "OASDI" (old age, survivor and disability insurance), it aims to cover the basic cost of living after reaching retirement age or in the event of death or disability. This pillar is compulsory for everyone living and/or working in Switzerland.
The second pillar is an occupational benefit plan. In combination with the first pillar it ensures that the insured person can maintain their pre-retirement standard of living. This pillar is compulsory for anyone who is employed in Switzerland and who earns more than a specified minimum wage.
The third pillar is a voluntary pension, allowing individuals to set money aside for their retirement.
The second and third pillar offer tax optimisation possibilities: in principle, contributions are tax deductible and capital payments are taxed at a privileged tax rate.  


Second Pillar LPP: The Swiss pension system
Above an annual salary of currently CHF 21,150, employees are insured in the second pillar. Depending on the age, salary and the applicable pension fund, ordinary contributions are directly deducted as a percentage from the salary. However, the employer finances at least half of the ordinary contributions into the second pillar. 
Additional voluntary contributions (so-called purchases) into the second pillar allow individuals to fill any gaps in the retirement savings and to improve their financial situation after retirement. These purchases are fully tax deductible (i.e. deductible from the taxable income). For individuals moving to Switzerland who have never participated in the Swiss pension scheme, the annual purchases into the second pillar are limited to 20% of their insured salary during the first five years. 
If all or part of the savings in the second pillar are paid out as capital, this capital is taxed at a privileged tax rate and generally without consideration of any other income (meaning no progression effect). However, most cantons take any capital payments within a certain period from both the second and third pillar (type 3a, explained below) into consideration when determining the tax rate (resulting in a progression effect here). 
Are entitled to family allowances all SPTS Employees who are living in Switzerland and are paid at least 587 francs per month.
Family allowances are both a social security and family policy matter. The purpose of these benefits is to partially compensate for the costs of raising children. There are three types of family allowance: child's allowance, education allowance and birth/adoption allowance.
Children giving entitlement to allowances are:
Maternity leave allowance
All employed mothers are entitled to receive maternity leave. Maternity leave lasts 98 days (or 14 weeks), from the day the child is born. Both full-time and part-time employees are entitled to maternity leave. Mothers are paid 80% of their wages in the form of a daily allowance, but no more than CHF 196 per day. Cantonal provisions, staff rules and collective labour agreements may provide additional solutions.
Accidents (occupational non-occupational) insurance LAA
Salaried Swiss workers are required by law to be insured against accidents. This insurance includes occupational accidents, non-occupational accidents and occupational illnesses. It is the responsibility of the employer and includes the following:
Medical treatments
Expense reimbursement
Material damages
Travel, transport and rescue costs
Conveyance of the body and funeral costs
Daily allowances
Disability rent
Allowance for adverse effect on bodily health
Disability allowance
Survivor pension
The full cost of premiums occupational is due by the employer, and premiums for non-occupational accidents is deducted partially from the salary of the worker.
Where there is an occupational accident or illness of a worker, SPTS will inform the insurer and supply all the data surrounding the accident to the insurers.
Unemployment Allowances(in case of no renewing of your contract)
All workers in Switzerland who have not yet reached retirement age are insured against unemployment. Contributions are split between the employer and the employee. To receive payments, the following conditions must be met:
be a Swiss national or
hold a valid residence permit and
be resident in Switzerland, unemployed, able to work and have contributed to the unemployment scheme for at least 12 months within the last 24 months
Amount: The amount that you are entitled to is calculated according to a reference salary based on the last six months of salary subject to contribution. The beneficiary is usually entitled to 70 percent of the reference salary. If they have one or more children and the allowance falls below a predetermined rate the amount due can go up to 80 percent. Benefits are calculated on the basis of a daily allowance paid over five days and will begin following five days of proven unemployment. A maximum of 400 allowances can be paid over a two-year period. A person over 55 years is entitled to 520 allowances paid over a two-year period.
Payments: Unemployment benefits are issued at a Benefit payment Office chosen when registering at the employment office. Benefits are only given to those who continue living in Switzerland. If the beneficiary leaves the country, the payments will be cancelled. If the residence permit expires during this time it will automatically be renewed for the remainder of the time that benefits are entitled.
SPTS service fees for "Wage Portage for UN Consultants":
SPTS service fees are calculated on the basis of a percentage of the turnover of the contractor. A degressive scale, from 10% to 5%, is applied according to the amount and recurrence of the missions.
Choosing SPTS Wage Portage for UN Consultants is choosing to:
Work with a high quality and cost-efficient services
SPTS services are carried out with the utmost discretion and in a time efficient manner by highly skilled and experienced specialists. We offer consultancy which is individually tailored to meet your needs in
various fields. Our experts are always up-to-date with current global trends and ensure to provide the most competent advice and general developments from around the world. Our experts speak a range of
languages including French and English.
The "ALL-IN-ONE Package" of SPTS Services
Application for a residence permit.

Declaration of contributions to social insurance.

Tax at source deduction.

Provide all administrative and contractual documents (employment contracts, mission orders, pay slips, detailed monthly accounts, salary certificates, work certificates, etc.)

Application for family allowances

Application for benefits in case of accident or illness

Management of expense reports